Hi guys! First of all, i am NOT a developer, so please have mercy on me, if
the following may seem a bit awkward-ish presented. I am just a sim user on
pc, trying to find some possible solutions, to forward them to the developer
of an addon and to maybe help him to solve a strange "phenomenon" i have. It´s
all about my home airport LOAV, located in the eastern part of Austria. I´m
sometimes getting trees placed in the middle of the runway and also nearby.
The problem is, this happens "sometimes" to me, but seems not to happen to
other people using the same scenery. As i tested a lot, i also had these trees
placed at the same locations in the vanilla default scenery for LOAV. So i
started to think, it´s not a problem with the scenery itself but with this
region in general. When i deactivate photogrametry and activate it again,
these mis-placed trees are gone. What makes it even harder to re-create this
problem is, that i have a very special configuration, i am flying with. I use
a streaming service named "Shadow", they have serverfarms in Germany near
Frankfurt, in France near Paris and in the Netherlands near Amsterdam. I am
hosted in the Frankfurt region. I am connected from my home location in
Austria to the serverfarm in Germany. I think, it is a problem on the server-
side, that these trees are being streamed to my rig in some misplaced
coordinates or so. Whenever this problem occurs, those trees seem to be the
very same on the very same location. So something out there in the world seems
to believe, those trees MUST be placed there… which is wrong. But others,
who are using the sim from completely different locations are getting
different routes or server-hops, when they are connected, not getting those
mis-placed trees it seems. So it´s hard to search for a fix for people, who
actually can´t see the problem on their monitors. For an better reference,
some screenshots from different camera positions: https://ibb.co/G0vd8GR
https://ibb.co/crfX3tR https://ibb.co/pR5TcG5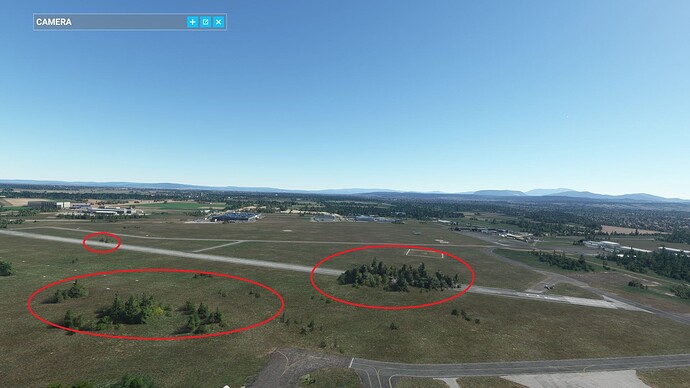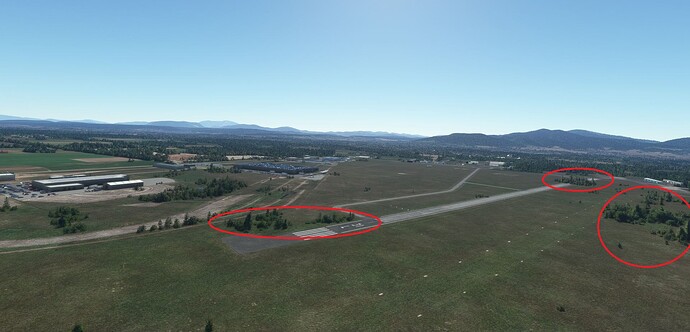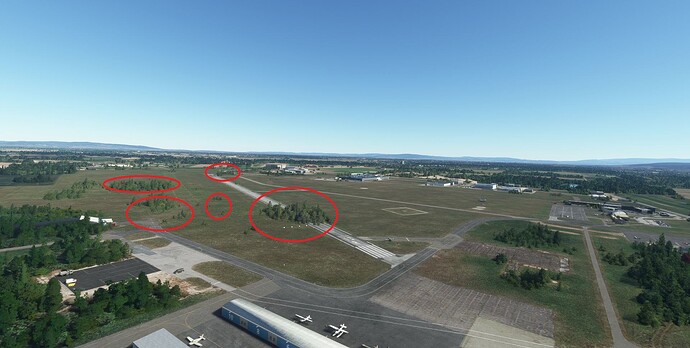 I have rolling cache and manual
cache deactivated. When these trees appear, i found out that deactivating
photogrametry and activating it again seems to remove those trees, as long as
the sim keeps running. When i shut down the sim, reboot my rig, start the sim
again, it´s very much possible, i got the trees again. Is there anything, that
can be done, to suppress those trees "hard coded", no matter what the servers
wanna stream to this position? It´s no matter, if some trees are misplaced in
the scenery… but exactly there on and nearby the runway is a really terrible
thing to have. Reporting via a support ticket does not seem promising to me,
as this special phenomenon is probably very hard to recreate. So testing, if
it´s fixed, maybe needs to be done via my rig… Any hints or ideas would be
extremely welcome. I´d collect them all and forward them to the developer, who
understands things much better than me. I´m just trying to support him to
maybe solve this issue. Thanks for listening and hoping for a successful bug-
hunt.

Edit: to be sure, i´m NOT in the SU10 beta, i´m just in the released
version ,also have done a complete uninstall and fresh install of the sim. I
have also tested without any other addons except my LOAV addon. Those trees
are coming back over and over again. It maybe needs some "Digital Napalm" to
teach those trees a lesson?