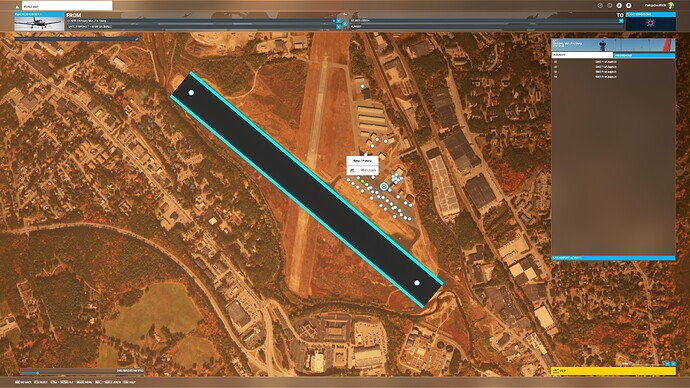 Hi, I'm updating KFIT to its
current configuration with 2-20 closed and 32-14 lengthened by 500 ft and
reoriented. At first I thought the issue shown in the picture was because I
had something defined incorrectly with my main runway 32-14. Notice that 32
shows up 3 times in the list of runways available at the airport. Maybe I do?
I couldn't find anything wrong. What I do have is a closed runway with a
single hold short associated with it. I'm assuming that the extra two 32's
listed should actually be 2 and 20, and both should be listed as closed. I did
delete the 2-20 runway taxiways to keep AI from using it. I tried getting rid
of the hold short node to the closed runway, but Scenery Editor threw a
warning at that. Given it's only a warning, I could have compiled it as is and
seen what the result would be, but I haven't yet tried compiling the airport
in that condition. Be that as it may, the closed runway is not listed in the
list of runways, nor is it listed as closed in the list of runways, and 32 is
listed 3 times, which seems to me is an issue that should be addressed
kfit-
airport.xml
. Granted, I could just
delete the closed runway and create a texture of what the runway should look
like, but, I like how it came out with a semi-opaque apron over the runway,
and I like the X's the software created, etc… IOW, I like how it looks as is.
I hope it's not an issue. I've included the source in case you want to take a
look at my work to see if I've done anything wrong. (Notice that I did add a
"Ground" frequency to the airport even though it doesn't have a tower so that
users can call the on-site FBO to order fuel delivery for their planes. I was
hoping to add an FSS frequency to do that instead, but, when I last tested
that, it didn't work :,( Hint, hint)