Hi, The title is an extract from @SonantAlpaca answer here:
https://devsupport.flightsimulator.com/t/3594 The topic was about whether an
individual developer, new comer most likely, has any chance to be accepted in
the Market Place. Retrospectively, long market place application delays
sounded at first like being in phase with the Q&A; where Microsoft/Jorg was
saying they are overwhelmed by all the applications they are receiving, which
I tended to believe, even if we're still waiting our application process
despite we were among the first batch to apply (because we were in the early
3rd party developers forum and we knew about the application process a little
bit earlier). Thereafter and ever since, the general consensus is that they
are reviewing and testing every single add-on and this takes time, given the
load. Which I tended to also believe once again, given the tight control and
the strict sandboxing policy, which sounded like they want to control every
bit (literally every addon data bit here) of what goes to the market place. So
back in February I was trying to add up official numbers to see what it looks
like: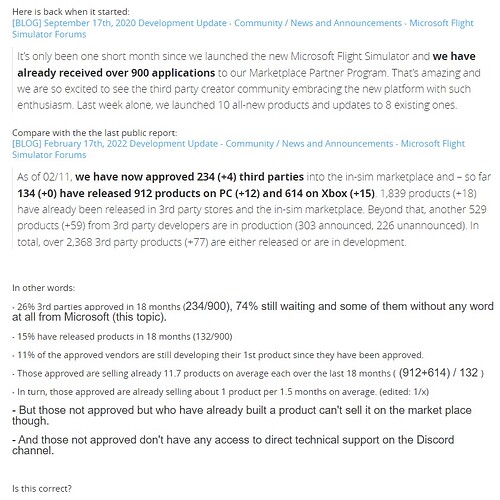 Which indeed sounded like
they have a lot of vendor applications still pending any processing at all
(the majority is waiting), which also sounds like a few vendors were approved
and are enjoying a situation where they can be selling more and more while
most others are still waiting more and more at the same time. And the overall
market place process is slow because this takes time to review add-ons,
because they must be validated individually for conformity, which I imagine
this to be, from the various Q&A; comments, as if there is a certain
"conformity validation process". Nevertheless: - if this validation process
takes so long, or at least takes so much resources that this is the reason
there are still so many vendors waiting for the market place application like
us (our market place application is still pending for nearly 21 months now…)
- if this is a problem of workload against team size because everything is
curated for conformance and quality, as it is so much said in various Q&A;
then I'm wondering whether finding an airport add-on in the market place with
the following file structure is not discrediting the entire claims for
"quality", and whether most vendors still waiting for their market place
application are not waiting in vain or hoping too much from it?