The Boeing B-314 flying boat is unique in that it has fuel tank selection
dials that control fuel flow from the fuel tanks to the four engines. While
the LVAR values of these particular dials seems to be set correctly, the
actual animation position of these dials seems to be permanently set at 0 when
entering the VC from Cold & Dark or with a ready for takeoff configuration.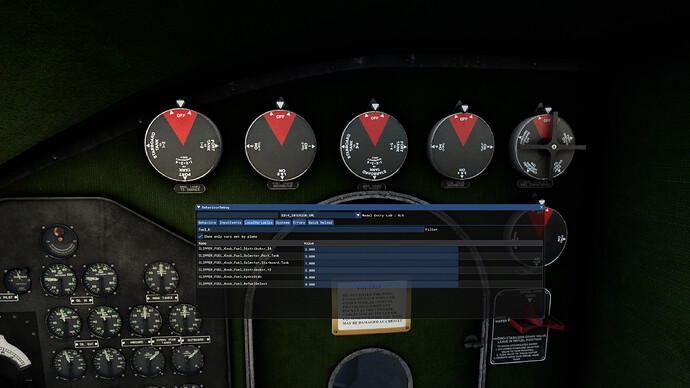 In the screenshot above you can
see all the dials in the OFF position, which corresponds to an LVAR value of
0, yet in the BehaviourDebug window, it is clear that the first four values,
which correspond to the above four dials from left to right, are in fact set
at 2, 3, 1 and 2.
I have tried to find the source of this discrepancy between the actual LVAR
value and the animation position of the dials, and am unable to resolve this.
Ideally the B-314 should display all of the dials in an OFF position when the
corresponding LVARS are all set to a value of 0 and otherwise in ready for
takeoff configuration matching the "Normal Operation" shown in the screenshot
below: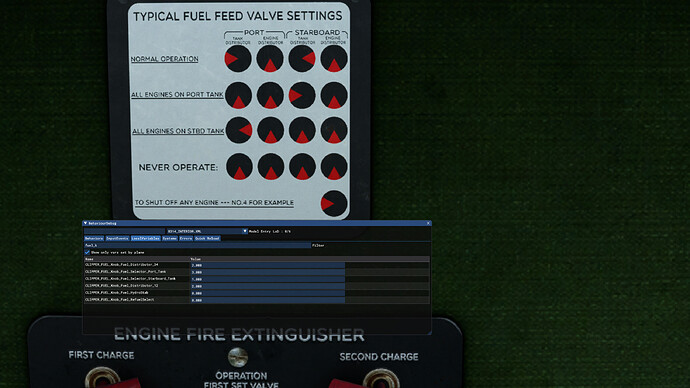 The code for the very first of the four relevant fuel tank selector dials is:
CLIPPER_FUEL_Knob_Fuel_Selector_Port_Tank
CLIPPER_FUEL_Knob_Fuel_Selector_Port_Tank
360 4 /
(O:_KnobAnimVar) 90 / (>L:#NODE_ID#)
(O:_KnobAnimVar) 90 / (>L:#NODE_ID#)

I would greatly appreciate any assistance in resolving this issue.
Jerome