As per the SDK, and its examples – The Babylon Asobo Unique ID bit should now
ideally be set (by default) when exporting models. ?
This will then allow the full support support for sub_Models and their
properties. ie Adding an Interactive Tablet to a Plane , without
disturbing the Base Model While this option may not have been available
when MSFS released, it is now needed to allow the full use of the recently
introduced sub-model feature., So please could ASOBO consider re-exported
their planes with this ID bit SET, and a strong recommendation go out to all
Plane Developers, to make sure they set this when doing future exports.
This would also be a good opportunity to correct a few know Model issue…
ie (1) Invalid Animation ID names ( in the Premium/Deluxe C172sp.) (2)
Non Unique Node Names for Tach Time & Hobs Time.( in the Premium/Deluxe
C172sp )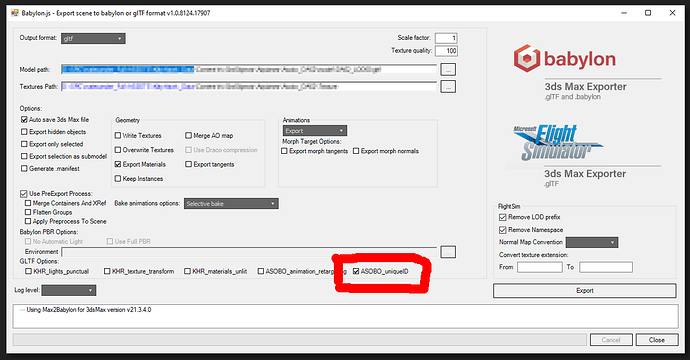 (From SDK)
ASOBO_UniqueID : Checking this option will mean that when you export a
glTF using the Babylon exporter, each node will automatically have a unique ID
assigned to it and these IDs will be validated as part of the export process.
Usually these IDs are created from the object name, however if the model uses
objects that share a name then the exporter will stop and give you a warning,
since this means that there will also be node names that are the same and not
unique.