The effect of CG position on airplane drag in MSFS appears to be the opposite
of what it should be. For a given airplane net lift coefficient, the drag
coefficient should be higher for a more forward CG. So for a given flight
condition, there will be more drag at forward CG than at aft CG. However, in
MSFS, airplane drag is higher at aft CG than at forward CG. See the
screenshots below for the default A320. The first is with a forward CG; the
second is with the CG near the aft limit. Airplane drag is higher for the case
with the CG near the aft limit.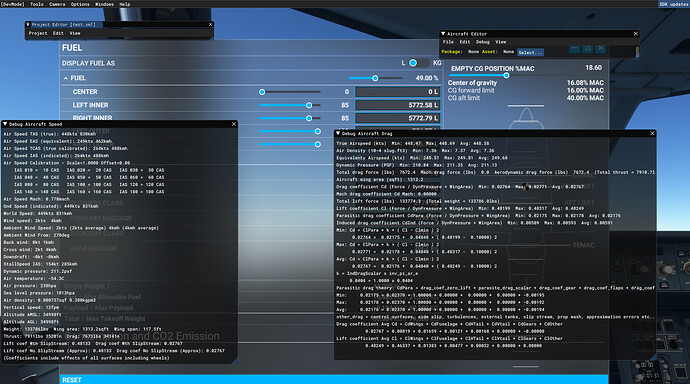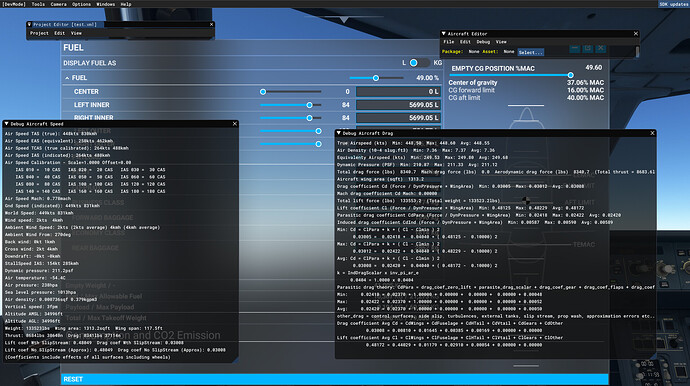 Interestingly, even with the CG
near the forward limit, the lift force on the tail is never negative. At least
the change in lift for the tail went in the correct direction (less positive
lift for FWD CG, but it should have been negative). CL for the wing had to go
up for the FWD CG case, but it did not change the CD value nearly as much as
the decrease in CL for the horizontal tail lowered the CD value for the
horizontal tail. This characteristic is also true in the default 747 as well
as a couple of the best known airliners available from 3rd party developers.
Is this endemic to the MSFS flight model, or is it due to incorrect parameter
values in the flight_model.cfg file?