This has been an ongoing issue for a while. At least since late last year, but
likely earlier. It doesn't seem to matter if you use the standard AGL offset
value or if you have low resolution elevations checked off. If you place a
scenery or simobject and set an elevation offset value, sometimes on load-in
the sim will ignore the value. Sometimes models will later pop to their
correct altitude, but also, sometimes you just have to restart the flight or
go back to the main menu and load in again for it to display correctly. There
does not seem to be any real pattern to it. Luckily most models are just
placed AGL, but often times I may need to sink something into the ground or
raise it a bit, so not having these models placed where they need to be can
look a bit odd. Especially in the odd cases where a large offset is needed and
a simple offset in the model itself wont do (If a model is being placed more
than once). An example would be this race course that I just finished, where
the model origin is in the center of the object: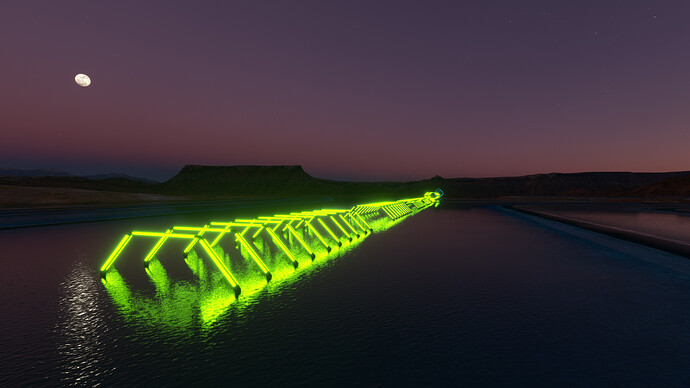 These should normally be
floating about a meter or so off the ground with an offset, but the value was
sometimes ignored (They have now been revised to have an offset in the model
itself). In all cases that I can currently think of, some form of terraforming
was involved, whether it was added by myself or placed over a default area (In
this case), so possibly it could have something to do with that or just
loading order?