I am working on a SimObject of type GroundVehicle:
[General]
category=GroundVehicle
And it is a LARGE vehicle - it is a NASA crawler transporter, measuring 131 feet long and 114 feet wide.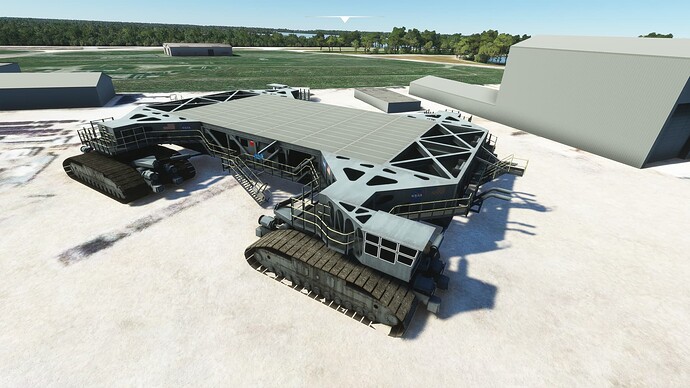 The problem I have is, when it is moving over UNEVEN ground, its tracks (extreme ends) go up and down off the ground. The reason for that is, the sim calculates the normal vector to the ground of its CENTERPOINT, and adjusts the pitch and roll of the object. This isn't the problem for small vehicles like cars or trucks, but large vehicles will have their extreme parts larger than the terrain mesh grid point span, so while the object's center may be over a certain terrain point altitude, its part that is far away from the centerpoint may "hang" in the air or embed into the ground.
This would be fixed if, as it is the case with Aircraft type object, GroundVehicle had the ability to define individual contact points in the format:
point.1 = param, param, param…
point.2 = param, param, param…
…
point.n = param, param, param…
With that, I could define 4 points where tracks are, and the model would be then properly placed on the ground. But it doesn't.
Is there anything that can be done about this? So far, I've been going through my options:
Flatten the ground where the vehicle moves. This works, but then introduces other problems, like creating unrealistic "throughs"
Use SimConnect to set pitch and yaw to zero, so that the terrain is not a factor in setting the vehicle attitude. This however, will still cause tracks to hang in the air or get embedded in the ground over uneven terrain.
Create the vehicle as an Aircraft object. Probably the best way to go - but I am unsure about all the rest of the parameters and files that I can cull and remove to make this vehicle a very very simple airplane.
Can anyone suggest the best option for this?
Thanks!
Mitch
Terrabuilder Team