I see that most of the Asobo base airports use a texture.cfg fallback alongside their model library which points to Asobo_Buildings\Texture.
An example of one of those cfgs:
[fltsim]
fallback.1=scenery\madere\texture
fallback.2=Asobo_Buildings\Texture

I'm trying to do something similar, but pointing back to my library instead.
I currently have the following:
[fltsim]
fallback.1=Scenery\ESD\8AK5\texture
fallback.2=Scenery\ESD\EOLib\texture

Following the logic of how the Asobo fallback is written, I feel like this should be the correct path, though it does not work. The textures that should be pulled from the library all show as missing.
I know that the cfg is working to an extent, because if fallback.1 isn't set up as your current texture directory, none of the textures will show. So, it's just fallback.2 not making the connection.
This is how I have the cfg positioned in my folder structure: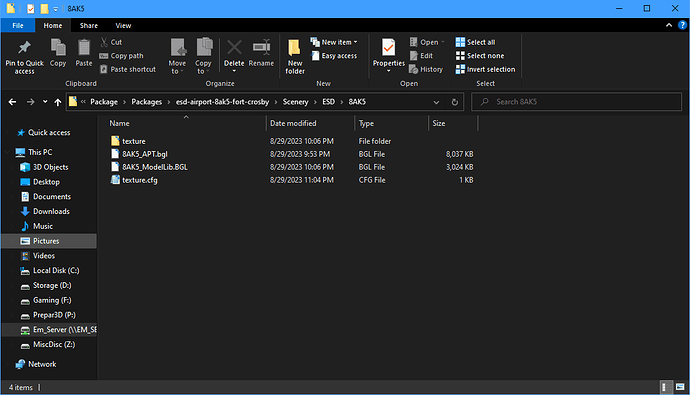 Am I missing something obvious here? I've been on this longer than I'd like to admit.
Apparently this has been done in the past, but with a Material Library (MSFS - [SOLVED] Is it possible for a scenery object to reference a texture from separate location/material library? | FSDeveloper).
Thanks!