Version:
1.33.8.0
Frequency:
Consistently
Severity:
Not up to me to decide, it would affect anyone writing flight assistance/autopilot code using SimConnect.
Context:
This happens for the Maule M7-235, installed via the marketplace.
Bug description:
Based on How do I get the actual current flaps angle? it looks like there's a bug in the way MSFS determines flaps angle, vs how SimConnect does the same. When the Maule is loaded in, with the flaps lever set to notch 0, the in-game HUD displays a flaps angle of -7 degrees. According to the folks who made it, that is the correct angle. However, when querying this value using SimConnect's TRAILING EDGE FLAPS LEFT ANGLE the reported angle is 0. Additionally, querying the flaps at notch 0 (which should be 0 degrees flaps in the Maule) the SimConnect value is yields 0.15 radians, i.e. 9 degrees.
To confirm that something odd is going on I also tested this with the Asobo Pipistrel Virus SW121, which reports a flaps angle of -5 degrees when the flaps lever is at notch 0 in-game, and querying the angle using TRAILING EDGE FLAPS LEFT ANGLE for this plane works fine, reporting -0.087[…] radians, which maps to -5 degrees.
Given that the game itself knows the correct angle for the Maule, it feels like somehow MSFS might be calculating the flaps angle differently in-game, compared to what SimConnect has access to, which is probably a bug irrespective of whether the folks who made the Maule forgot something or not. If MSFS itself can show the correct value, SimConnect should be able to, as well.
Repro steps:
Start a flight on the ground with the Maule M7-235
ensure the flaps lever is at notch 0
go to the external view, with the HUD set to "full"
observe that the flaps angle gets reported as -7 degrees
in the SimConnect watcher fetch the TRAILING EDGE FLAPS LEFT ANGLE using radians as unit
observe that the reported value is zero.
Repeat this with the Pipistrel, and observe that both the in-game HUD and SimConnect report -5 (with SimConnect reporting the value in radians, -0.0872…)
Attachments:
Pipstrel: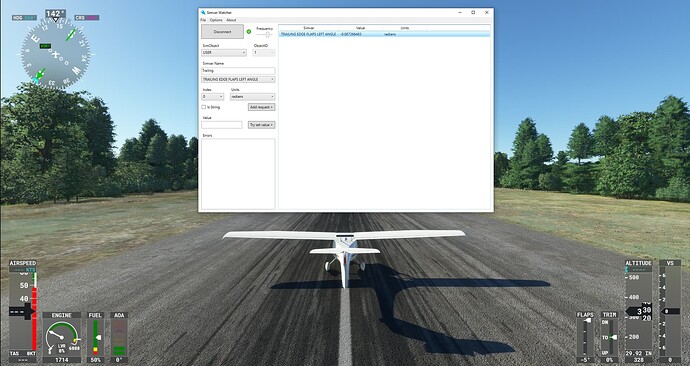 Maule: