We have encountered a strange behaviour with the Kodiak. Here are the steps
and what happens:
Load the plane close to its maximum permitted aft CG, which is 40%
Hold the brakes
Increase power to 100%
Release brakes
The plane will fall on its tail (screenshot)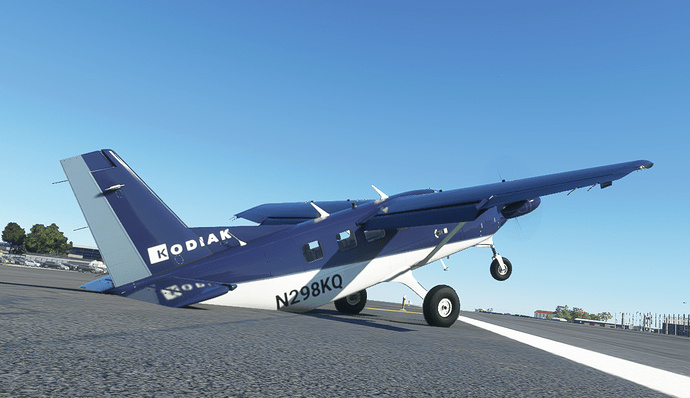 We initially attributed this to
prop wash and reduced it, but nothing changed. It also happens with full trim
down and full elevator down, so the elevator has absolutely no effect on this
and nor does propwash, it seems. It only happens:
at high throttle settings of more than 80-85% and
brakes released and
speed less than 20kts
CG beyond 35% (maximum is 40% for this aircraft)
If the plane accelerates past 20kts, I can throttle up to 100% and all is
working as it should. After running some tests and monitoring "ROTATION
VELOCITY BODY X" I noticed that at lower weights with brakes held, the plane's
pitch will fluctuate at the 2nd decimal, which increases as you put more
throttle to the plane. As soon as you release the brakes, the plane shows a
nose-up pitch rate which is negligible at lower weights/forward CGs. If your
CG is way back (always within the limits), that pitch-up tendency very rapidly
increases to 7 deg/sec resulting in a tailstrike, as the elevator doesn't work
to negate it. It seems like the plane does the rear-tilt as an "opposite" to
the forward tilt it does when braking.