Hi, Since the SU7 beta stage and the actual released version (w. last .16 sdk
update) : When I click save all my dock ga / fuel parking are red with an
"Invalid child" error message even if they were placed few months ago. -
Happen when we click Save Scenery - Deleted them and put them again → same
error - When we add them manually in the xml → the package build correctly

Note: it appears that we have
the same problem on other sceneries (lfhm/lfrv) with even "TaxiwayPoint
NORMAL"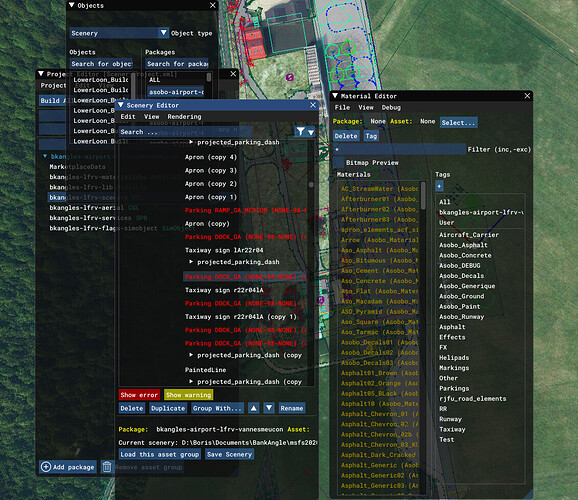 Edit:
seems a duplicate of
https://devsupport.flightsimulator.com/t/3614
I will try to link the parking
and try again and update this post
Edit2:
to fix this issue, we must
connect all the parking spot to taxi waypoint. Also we need to remove
TaxiwayPoint that are not connected to anything.
Question for SDK team
:
Is this intended ? It should be nice to tell us before making that kind of
change which take us some time to fix by ourselves. Also, maybe, it will be
better to have this in a warning way (= non blocking event) instead of error
(= blocking event). Because sometime it's normal to not have no taxiway point
between parking. Maybe it is intended for AI but again, you should tell us
before making these changes like a message on the release notes like :
Added
: taxyway connectivy check - you'll need now to connect every parking to
TaxiwayPoint. If not, you will have an error saying that a child is invalid.